Built Tough
To last a lifetime
5 Year Warranty - 25 Watts
Analog VHF Portable Radio Repeater Systems Built Military Tough!
Built Tough to Survive Some of the Harshest Landscapes in the World
Deployed Throughout Canada, the USA & the Northern Alaskan Arctic
For use in Search & Rescue, Public Safety, Wildland Fire, Construction & Remote Camps.
30 WATTS of Extreme Portable Power in a 40mm AmmoCan Utilizing The TK-7180 in a genuine Back-to-Back configuration !
The TRP-10000-K is our best system yet!  Built on our popular Back to Back platform, the TRP-10000-K incorporates some serious technology. We wrap it up in a minimal sized, 40mm AmmoBox that acts as a faraday cage.
Built using custom tuned Comprod & Sinclair duplexers, Custom Logic Controllers, polarity protection and much more, the TRP-10000-K gives you real bang for your buck!
Add an Optional Telephone Auto-Patch !

Make phone calls from your mobiles to a local Land Line !
Introducing the new Midian Electronics STI-2, best of breed Telephone Interconnect.
Based on simple analog to PSTN conversion, this interconnect adapts perfectly to the TRP-10000
Easy to use and simple to install, the STI-2 simply plugs into an adaptor port on the TRP-10000, then connect the other line into any conventional analog telephone system and you're connected !  It's just that easy. 
TECH SPECS:
Weight 29.5 Lbs
Dimensions 17" x 10" x 8"
Operational Frequency Range VHF 136-174Mhz VHF
Operational Frequency Range UHF 410-512 Mhz UHF
Built-in Pre-Tuned, Mobile Internal Duplexer
Duplexer Split between Uplink & Downlink 3.4 Mhz to 7 Mhz
RF Output Power, Adjustable from 40dbm to 44dbm (5 watts to 30 watts)  
Emmision: F3EJ (Analog FM or Data)
Standby (Receive) Current Draw 330ma (.3 amps) from a 12 Volt Source
Transmit Current Draw @ 30 watts RF 7300ma (7.3Amps DC Current)
With the introduction of our newest product, the TRP-10000-K, this combo portable / fixed station repeater combines the ruggedness and practicality of a  portable system with all the benefits of a high power, high performance "fixed" repeater all-in-one.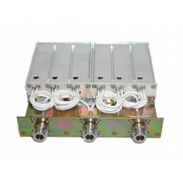 Each repeater is built with a genuine Comprod or Sinclair duplexer; tuned specifically for your application
Built "Military Tough" to take into Extreme Environments where no other repeater was designed to go.
Use This Form To Contact Us With Your Enquiries